SHIPPING
FG Fabrics aims to deliver your order within 3 to 5 days after the amount on the sales invoice has been paid in full by the buyer to FG Fabrics, unless explicitly agreed otherwise in writing in advance.
Payment of the (online ordered) order is made via: transfer in advance to one of our bank accounts, online payment via the usual methods/possibilities for doing so in the country from which the payment is made to FG Fabrics or creditcard. Additional bank charges for foreign payment transactions and creditcard charges are for the buyer's account. FG Fabrics strives to ship an order for which payment is received a.s.a.p. to the address specified by the buyer. If an order is not shipped within 3 working days after receipt of payment, FG Fabrics will inform the buyer of this as soon as possible.
No packages are delivered on Sundays and Mondays.
Because all FG Fabrics products are developed with leftover fabrics, products may be out of stock soon and not be available again. Should the stock amounts somehow not be updated correctly and an ordered product is no longer available, FG Fabrics will update you personally a.s.a.p. Delivery of ordered products in parts and payment thereof in parts is not preferred by FG Fabrics, but can be permitted by FG Fabrics after explicit prior consultation about this and by way of exceptional exception.
SHIPPING COSTS
Delivery of an order takes place ex works.
The shipping costs (including packaging costs) for the Netherlands start from € 4,10 for small packages.
All EU shipping depending on size/weight of package (traceable)
Intercontinental depending on size/weight of package (traceable)
All shipping costs are shown on checkout and payment page.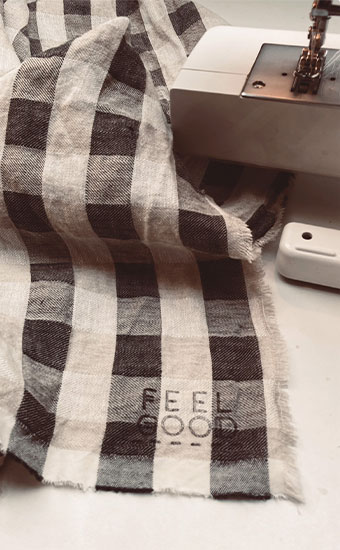 RETURN POLICY
Should you receive a faulty/damaged item(s) please send an email to [email protected] including a picture of your damaged good(s). We will either replace the damaged goods (if possible and available) and of course the shipping costs are on us. Or we will refund the item(s).
In case you are not happy with the item(s) you received and wish to return it, the item(s) has to be in perfect condition. You must let us know within 14 days after having received the item. You will receive our address by e-mail for returning and have to send it back within 5 days. You are responsible for all return shipping costs. We will send you an email to confirm your return has been well received and the refund will be processed. To be eligible for refund, your item must be unused and in the same condition that you received it. The easiest and most sustainable way is to use our original packaging.
REFUNDS
(if applicable)
Once your return has been received and inspected, we will send you an email to inform you that we have received your returned item. If your refund is approved, it will be processed and a credit will be automatically applied to your account, within 4 days after we receive the item. There are certain situations where only partial refunds are granted.
Thank you for shopping with FG Fabrics